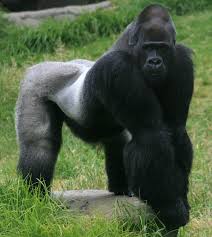 Gorillas
constitute the eponymous genus
Gorilla
, the largest extant genus of primates by size. They are ground-dwelling, predominantly herbivorous apes that inhabit the forests of central Africa. The genus is divided into two species and either four or five subspecies. The DNA of gorillas is highly similar to that of a human, from 95–99% depending on what is counted, and they are the next closest living relatives to humans after the bonobo and common chimpanzee.
Gorillas' natural habitats cover tropical or subtropical forests in Africa. Although their range covers a small percentage of Africa, gorillas cover a wide range of elevations. The mountain gorilla inhabits the Albertine Rift montane cloud forests of the Virunga Volcanoes, ranging in altitude from 2,200–4,300 metres (7,200–14,100 ft). Lowland gorillas live in dense forests and lowland swamps and marshes as low as sea level, with western lowland gorillas living in Central West African countries and eastern lowland gorillas living in the Democratic Republic of the Congo near its border with Rwanda.
In the Max Steel (2013 TV Series), there was a gorilla in a zoo, which was the one that Extroyer used to turn into Extroyer Gorilla in the episode, Scrambled.
Ad blocker interference detected!
Wikia is a free-to-use site that makes money from advertising. We have a modified experience for viewers using ad blockers

Wikia is not accessible if you've made further modifications. Remove the custom ad blocker rule(s) and the page will load as expected.