"
Let's turn on the heat!
"

—Fire Elementor
Fire Elementor, also known as X577 Omega Class Bio-Parasitic Subjugation Warrior Ultralink, is one of Max Steel's enemies. He is one of the Elementors and also an Ultralink like Steel. He worked for Dredd, but has an old feud with him that has not been revealed. He commands the element of fire, and is extremely dangerous.
Origins
Years ago, when Makino launched his first invasion of earth, he was one of the many Elementors that were created. Though the others all left or died, he stayed and eventually became the lone Fire Elementor of earth.
TV Show
Fire Elementor was called by Dredd, to hunt down Max, and they Max fought with Steel helping Max, in the area near the N-Tek base, until Max was dropped by him off a high area.
He and Earth Elementor chased Max, Forge Ferrus, Max's mom, Molly, and Steel. He then fought and was hurt by Max's Turborang, and Earth Elementor captured Max.
He and Earth Elementor fought against N-Tek in the THI Building until they were defeated with the help of C.Y.T.R.O.
There was some clips of him, when Forge Ferrus was talking about him and Earth Elementor. Then there was a machine that shot fire, which represented Fire Elementor. Then he was mentioned by Water Elementor.
Fire Elementor and Earth Elementor were trying to fight Max Steel, so that Troy Winter could go to Miles Dredd. Then N-Tek came and then Fire Elementor was defeated when they shot his orb.
His name was not mentioned, nor said, but Steel said Giant Fire Monsters, which referred to Fire Elementor.
Powers and Abilities
Enhanced Strength: Like all other Ultralinks, he possesses super strength.
Enhanced Durability: Like all his Ultralink brothers, he has incredible durability, and even once you beat him in a fight, he can come back from it shortly ready to fight again.
Enhanced Speed: Due to his size, Fire Elementor can traverse ground at an incredibly fast rate.
Pyrokinesis: Being Fire Elementor, he has complete control of the element heat, and can shoot fireballs, dramatically increase temperature, and transform himself into a fireball.
Gallery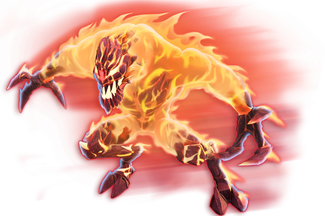 The Gallery of Fire Elementor can be seen Here.
Trivia
Ad blocker interference detected!
Wikia is a free-to-use site that makes money from advertising. We have a modified experience for viewers using ad blockers

Wikia is not accessible if you've made further modifications. Remove the custom ad blocker rule(s) and the page will load as expected.