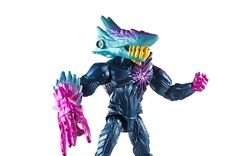 Extroyer Sharktopus
 or
Ocean Mutant Extroyer
 is an action figure based on
Extroyer
on his
Shark mode
and in his octopus mode. This figure was released in 2015 and is a part of
Connect-Tek
line.
Description
The figure is actually a relaunch of Quick Strike Extroyer, only some characteristcs are changed, like the tone of armor, which is now bluish, and the left arm, which doesn't have the mutated hand, but does have a rocky aspect. The sculpture of the head was also changed, having a bright color on Extroyer's face with yellow teeths, and a purple tone in the top of the head. The figure has 10 points of articulation, and comes with two accessories.
It comes with an articulated shark head, which has a different sculpture that only makes it compatible with Extroyer, and a octopus, that can launch one projectile, and can fit in any Connect-Tek hole in Extroyer's body, as well in other figures of the same line.
Trivia
Although that Extroyer Shark was barely seen in the TV show, he had one figure. Also, in the episode, was shown that his teeth was purple (like every Extroyer transformation), instead of yellow.
The figure had two notable differences in terms of articulation, the articulation of the head was changed to a ball joint, presumably because of the shark head, to gain more mobilty, and the articulation on the knees were removed.
The figure was considered controversial to the fanatics of the old series, mainly because of the mechanics of the figure: instead of being transformable like every Extroyer figure related to animals, the figure only can assume different forms by inserting the accessories on Extroyer. The fans also complained about the articulation and the paint job, saying that it was very different when compared to the box version.