Morphos Ahead!


This article is a stub. You can help Max Steel Reboot Wiki by expanding it.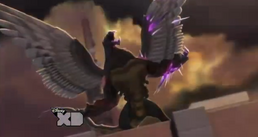 Extroyer Saber-Tooth Tiger, is a transformation of Extroyer. This transformation is of a Saber Tooth Tiger and this is the second feline transformation of Extroyer, the first being Extroyer Black Tiger. This mode has sharp teeth and has the same abitlties as Extroyer Black Tiger. This mode was cancelled, but appeared as part of Extroyer Demon. This mode was going to be Extroyed by Extroyer from the Saber-Tooth Tiger's DNA Sample. This mode first appeared in Making the Grade as Extroyer Demon.
Ad blocker interference detected!
Wikia is a free-to-use site that makes money from advertising. We have a modified experience for viewers using ad blockers

Wikia is not accessible if you've made further modifications. Remove the custom ad blocker rule(s) and the page will load as expected.