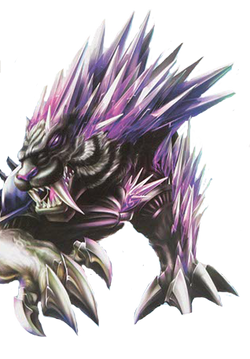 Extroyer Black Tiger
is one of
Extroyer
's transformations and animals he morphs into. With this transformation, he looks very creepy and terrifying like himself, only that more creepier than his actual appearance. This mode was not seen in
Thanks, I Think
, for some reason if in anytime, he would had used it, but he didn't used it, along with 
Extroyer Spider
. This transformation first appeared in
Extroyer Unleashed
.
Origins
Extroyer has a pet tiger, which he used to extroy into Black Tiger Extroyer. With this form, he is able to shred his enemies to pieces. Max Steel first saw this appearance when they found Extroyer and he transformed into this form to combat him.
Gallery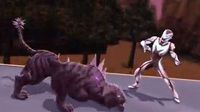 The Gallery of Extroyer Black Tiger can be seen Here.
Trivia
He extroyed into this animal by using his pet tiger.
It is the first transformation of Extroyer and also the first one to be an actual size transformation.
The only episode that this mode was not seen, was in Thanks, I Think in Season 1.
Ad blocker interference detected!
Wikia is a free-to-use site that makes money from advertising. We have a modified experience for viewers using ad blockers

Wikia is not accessible if you've made further modifications. Remove the custom ad blocker rule(s) and the page will load as expected.