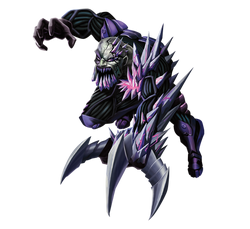 Extroyer
is an evil mutant that is half human and half 
Ultralink
, who can turn into animals and said beats. He is a villain of the 
Max Steel (2013 TV Series)
.
Extroyer can also mean other things. Like these:
Characters
Extroyer: A mutant, half human and half Ultralink, who can turn into animals and said beasts.
Objects
Extroyer's Ultralink: This is the Ultralink that Extroyer has on his chest. The Ultralink is damaged and makes Extroyer turn into animals.
Extroyer's Device: This was a device that Extroyer uses so that Steel could be his second Ultralink, and so that he could more powerful than ever.
Episodes
Tournaments
Transformations
Extroyer Main Mode: This is the mode in which Extroyer is in ever since he was turned into a mutant.
Extroyer Mutant: Extroyer turns into a deformed creature when he was trying to turn into one, but was extroying all the DNA samples.
Words
Extroying: This is a verb that was created by Steel, which describes what Extroyer dies when mrophing into an animal.
Locations
Other
Toys
Galleries
Ad blocker interference detected!
Wikia is a free-to-use site that makes money from advertising. We have a modified experience for viewers using ad blockers

Wikia is not accessible if you've made further modifications. Remove the custom ad blocker rule(s) and the page will load as expected.