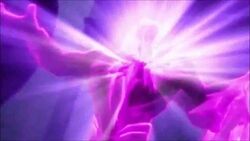 Extroyer's Transformations
 are the many forms that
Extroyer
is capable of transforming into, generally being animals. Most of Extroyer's transformations are based off on animals, even though that he is capable even of transforming into
Max Steel
's
Turbo Modes
, other
Ultralinks
and mythical creatures or some creature, beast that doesn't exist. The transformations can have the exact same characteristics of the actual animal that Extroyer extracted, such as the size.
When Extroyer morphs into an animal, or as Steel refers it as "Extroys", the animal becomes a part of him and his Ultralink start to glows purple until he fully transforms into the animal.
Origins
Ever since Troy Winter infused with the damaged Ultralink that he stole from N-Tek, he got the ability of transforming into any kind of animal existing on Earth.
List of Transformations
Main article: Extroyer Main Mode.
Extroyer's standard and default mode. In his main mode, he is capable of taking the form of a specific animal by simply touching it with his mutated hand or staring at his/her eyes.
Main article: Extroyer Black Tiger.
Extroyer's very first animal mode. Extroyer gets the same abilities and characteristics as an actual tiger, but they are all enhanced.
Trivia
All modes have fragments of crystals.
Ad blocker interference detected!
Wikia is a free-to-use site that makes money from advertising. We have a modified experience for viewers using ad blockers

Wikia is not accessible if you've made further modifications. Remove the custom ad blocker rule(s) and the page will load as expected.