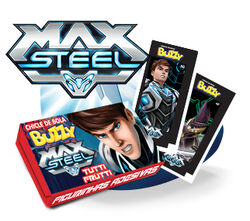 See also: Max Steel: Sticker Album
Chewing Gum is a product that is solely sold in Brazil, manufactured by a company named Riclan. Each of them contain one sticker, which can be glued in an exclusive sticker album. There are also different packages, where there are two gum, and a metallic tattoo.
Ad blocker interference detected!
Wikia is a free-to-use site that makes money from advertising. We have a modified experience for viewers using ad blockers

Wikia is not accessible if you've made further modifications. Remove the custom ad blocker rule(s) and the page will load as expected.