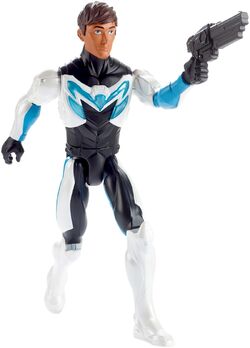 Blaster Max
 is an action figure based on
Max Steel
using
Turbo Base Mode
. It was released on 2016 on the first wave of action figures, and is a part of
Max Steel: Team Turbo
.
History
"Max surprises Elementor incredibly using his launcher, while he strikes with an attack of flames!"
Description
Max Steel's face is fully visible on this toy, but instead of the previous releases, his face has older features. He has white paint job on the chest and legs, while the rest of the body is made on black or white plastic. Unlike other figures on the line, Max have Steel linked on his chest. He has nine points of articulation, and doesn't comes with any accessory.
Max has a small black gun attached to his right hand, which is not removable.
Ad blocker interference detected!
Wikia is a free-to-use site that makes money from advertising. We have a modified experience for viewers using ad blockers

Wikia is not accessible if you've made further modifications. Remove the custom ad blocker rule(s) and the page will load as expected.