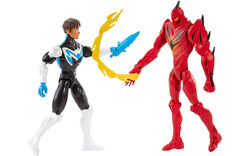 Battle Ripped Max Vs Dread / Dredd
 or
Turbo Power Max Vs Spike Whip Dread
 is an battle-pack with two characters, being them
Max Steel
(In
Turbo Base Mode
) and
Miles Dredd
(In
Spike Mode
). It was released in 2015 in the first wave of action figures, and is a part of
Transform-Tek
line.
Description
The Max Steel figure is a relaunch of Blade Strike Max in the Transform-Tek line, but only the colours and head sculpture are different. The figure is able to transform: in the regular form, it has the black armor, when transformed, it changes to a blue armor with silver details.
The Miles Dredd figure is a relaunch of Spike Whip Dread of Transform-Tek line, only the colours are different. The figure is able to turn into the Spike mode: when a lever is pressed, Dredd's spikes will elevate, a whip can be revealed, and there is also a hidden spike on his head.
Trivia
In Latin America, it was, so far, the cheapest battle-pack released, probably, because the figures were relaunch of old ones.
Ad blocker interference detected!
Wikia is a free-to-use site that makes money from advertising. We have a modified experience for viewers using ad blockers

Wikia is not accessible if you've made further modifications. Remove the custom ad blocker rule(s) and the page will load as expected.