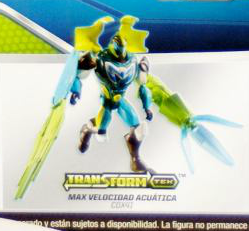 Aquatic Speed Max
(unofficial name) was an action figure based on
Max Steel
. The figure would be released on the second wave of action figures as a part of
Transform-Tek
, but it wasn't released by unknown reasons.
Description
Max has a helmet based on Turbo Scuba Mode, but instead of having the signature colors as other modes, it is blue, green, and black. His upper torso features black paint while the rest features blue and light green on the waist. His torso also seemed to be covered by two green pieces. Max has black shoulder pads, green thigh pads, and white marks on the knees. The figure presumably had twelve points of articulation, and came with two accessories.
Max would come with a weapon similar to a gun, and a shield. Besides, the two green plates on his shoulders could include some gimmick.
Trivia
It was the only figure of the 2015 line that wasn't released, still by unknown reasons.
Ad blocker interference detected!
Wikia is a free-to-use site that makes money from advertising. We have a modified experience for viewers using ad blockers

Wikia is not accessible if you've made further modifications. Remove the custom ad blocker rule(s) and the page will load as expected.