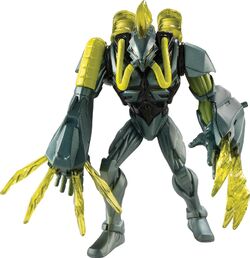 The 
unnamed 6 inch line
was the first toy line based on
Max Steel (Series)
released on USA and other places of the world. They first models were shown in a toy fair in 2013 and the first collection was released in fall 2013.
History
In fall 2013, Mattel released an exclusive toy line of Max Steel action figures, divided in basic, which included LED lights and some points of articulation (around four or more), and deluxe, which had more gimmicks and were better made than the basic ones. During the rest of the year, there weren't any new releases.
In the beginning of 2014, Mattel released new action figures based on the Ultralink Invasion, an event seen during the whole Season 2. The toys, unlike the previous releases, had more details and a variety of creative gimmicks. The toy line included characters of Season 1 and 2, with each coming with one Ultralink, which could be inserted in some body part of the character or serve as a ring.
In the mid of the same year, Mattel released new figures without any gimmick, even though they were a way more detailed, coming with more weapons and having more points of articulation. Mattel also released 12 inch figures, most of them being relaunched versions of figures released in Latin America. There were plans to continuing the line by introducing more characters, like Ven-Ghan, Metal Elementor and Toxzon, but the line was cancelled by unknown reasons, presumably because of lack of sales. However, a part of this line was released, being only Chomp Link and Earth Elementor.
In 2015, few toys of the 6 inch toy line leaked on internet, even though that none of them were released, between those, the Ultra Turbo Battlers, that were planned to be released alongside with the new 6 inch toys. Known toys were a upgraded Turbo Cycle, and the Turbo Car.
List of figures
2013
2014
First Wave
Second Wave
Unknown
Exclusive
2015
Ad blocker interference detected!
Wikia is a free-to-use site that makes money from advertising. We have a modified experience for viewers using ad blockers

Wikia is not accessible if you've made further modifications. Remove the custom ad blocker rule(s) and the page will load as expected.